Celebrating Reel Women: The First Annual Athena Film Festival
Two advocates for women in film launch a cultural institution in New York City.
In December 2009, Melissa Silverstein and Kathryn Kolbert attended an event with filmmaker Jane Campion, the director and writer of "The Piano," and "Bright Star." Campion is one of four women ever to be nominated for an Academy Award in directing, and there was buzz that she might be nominated again in 2010. But the mood in the room wasn't always celebratory.
"We heard women directors lament what was going on in the film business for them," Silverstein remembers. The same month, New York Times critic Manohla Dargis published an article pointing out that, of the 600 films reviewed by her paper that year, only 10 percent had been directed by women and only a handful of women directors that year had been backed by a major Hollywood studio.
Kolbert, who had recently launched the Athena Center for Leadership Studies at Barnard, suggested to Silverstein that they do something about it. Just over a year later, they have co-founded the Athena Film Festival, which begins its inaugural season this week. "This was a scary-fast thing," says Silverstein of their work since last December.
The festival, co-produced by the Barnard center and Silverstein's blog, Women and Hollywood, will screen 25 films February 10 to 13, highlighting women's leadership in narrative and documentary film, including several New York premieres. The festival will also feature three discussions, including one with Barnard graduate—and star of 2010's "Greenberg"—Greta Gerwig, who will join Vanity Fair Contributing Editor Leslie Bennetts for a Hollywood Conversation. Panels include The Bechdel Test: Where Are the Women Onscreen; and Women Documentarians: Stories That Change the World; as well as a sneak preview performance of By the Way, Meet Vera Stark, a new work from Pulitzer Prize winning playwright Lynn Nottage.
In the year of festival planning since December 2009, Kathryn Bigelow became the first woman to be awarded the Best Director Oscar. Silverstein believes the win, and its accompanying media buzz, created the atmosphere for discussions that couldn't previously exist. "People in mainstream culture realized that no woman had won a directing Oscar in all the years of its existence," Silverstein said. "I think that surprised a lot of people... [Bigelow] is the bouncing-off point of a larger conversation about where women are in Hollywood."
Generating that larger conversation, Silverstein believes, requires a regionally and racially diverse lineup at Athena. The documentary "My So-Called Enemy" chronicles the friendships of Israeli and Palestinian girls as they enter adulthood; "Vision" illustrates the trials of a 12th-century Benedictine nun; "Bhutto" documents the life of the recently assassinated Pakistani former prime minister Benazir Bhutto. Silverstein notes that the films are also diverse in theme: "I'm excited that we have a film about sports, with 'The Mighty Macs,' I'm excited that we have a film about media with 'Miss Representation,' a film about India with 'Pink Saris,' and a film about religion, with 'Pink Smoke Over the Vatican.'"
It was also important to Silverstein that complexity be visible within each chosen film. "Mo," a narrative feature about British Labour Party politician Mo Mowlam, illustrates Mowlam's tenure as Northern Ireland secretary at the time of the Good Friday agreement in 1998. The film got Silverstein's attention for its honesty about Mowlam's personal complexities. "They did a really good job of showing this woman who is not perfect, and I was surprised, as a person who's seen so many movies, how refreshing it was," she said.
She was also moved by "Winter's Bone," a narrative feature that screens at the festival Friday night. Directed by Debra Granik, who co-wrote the screenplay with Anne Roselini, the film won the 2010 Sundance Grand Jury Prize and was awarded Best Feature and Best Ensemble at the Gotham Awards. Based on a novel by Daniel Woodrell, the film centers on a 17-year-old girl in the Ozarks searching for her father. It has generated more feminist conversation than the average movie with a strong female lead, including New Yorker critic David Denby's assertion that it is "one of the great feminist works in film." The film's star, Jennifer Lawrence, has been nominated for an Oscar and a Golden Globe. She's slated to appear in the next X-Men movie, but Silverstein hopes she'll stay open to independent film, and lauded her courage in taking on "Winter's Bone": "Not a lot of people would play that part. They traded new clothes that they bought for old clothes that people in the area wore. That's not happening on the X-Men set."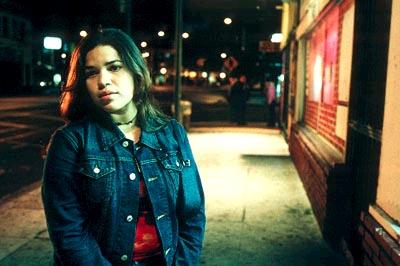 The festival also features the 2002 coming-of-age film "Real Women Have Curves," starring America Ferrera in her feature debut. Nearly a decade old, the film won't be new to everyone, but Silverstein hopes it will attract and provoke younger viewers. "I would love for Girl Scouts and Girls Inc. to bring girls to see this," she said. "It's about important topics that are still relevant. All the women take their clothes off to talk about their bodies—all their body faults. I don't think a better scene has been done."
Silverstein first saw "Real Women" at the Sundance Festival; Ferrera ascended to the Sundance jury this year. Silverstein believes that cinema is a uniquely qualified medium to prompt discussion and debate that might not be had otherwise. "Film allows people to look at issues that women are dealing with in a variety of different ways, and to have conversations that maybe you wouldn't be comfortable having about those issues." Silverstein has been generating these conversations for years through Women and Hollywood, which was conceived through an increasing sense of injustice in American film. "As I aged, and I would go to see the big movies, I thought, 'Oh my god these are just horrible. And there are no women.' I just thought, 'This is not right.'"
Like the Athena Film Festival, Silverstein didn't wait for someone else to do something about it. "All of a sudden the lightbulb goes off in your head and you say, 'Oh! I can do that.'"
Getting There....
The Athena Film Festival will be held at a variety of venues on the Barnard campus in New York City, 117th Street and Broadway, and at the Miller Theatre on the east side of Broadway (No. 1 subway and various buses). Individual screenings are $10.00 for the general public and $5.00 for students. All-access passes are available for $50.00. Two films—"Mo" and "Real Women Have Curves"— are free to the public, but require a ticket for entrance. Tickets ordered online can be picked up in the LeFrak Gymnasium on the first floor of Barnard Hall.
Follow the Athena Festival on Twitter and Facebook.
---
More articles by Category: Arts and culture, Media
More articles by Tag: Film