Twitter and gendered language
Of all the things to spark a debate over the lack of gender neutrality in language, I really hadn't expected Twitter.
Twitter seems to get a lot of flack. Upon telling people that I have a twitter, they usually roll their eyes or laugh in my face.
They tell me it's Twitter promotes the death of language and creative thought.
They tell me that it's weird to update people on everything you do (nobody cares) [OH BUT THEY DO] and it only promotes stalking.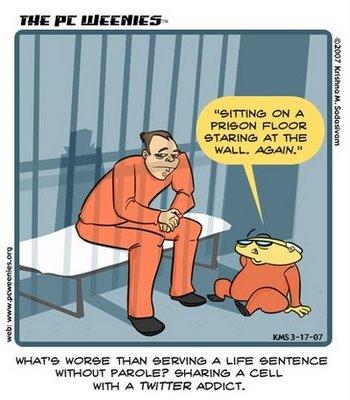 But Facebook, which not only has a status update feature, but allows users to take stalking to a truly comprehensive level, by letting them read your conversations with others, view photos of you, and learn about your "interests and activities" -- no that's fine. Because it's facebook, duh.
They make fun of the verb "to tweet." I honestly fail to see the hilarity in the word "tweet." The word "moist" is way funnier, and hardly anybody makes fun of that, they just casually throw it around when referring to baked goods.
The one criticism of Twitter I've gotten almost entirely from guys, the one that made me sure Twitter could never lead any kind of gender revolution was, "Straight guys don't Twitter."
I'm sorry...what's that now? I didn't know that a type of social networking could be deemed as restricted to certain sexualities. News to me! Especially since there are plenty of hetero guys on Twitter. I mean, Lance Armstrong is on twitter. So is Peter Facinelli (Dr. Cullen). I think Chuck Norris might be, but it's not certified and the tweets are kind of sketch. Last I checked, none of them identify as gay. Apparently, if you update your status on twitter you're gay, but if you do so on Facebook you're straight as an arrow. Seriously, who comes up with this shit?
But I guess I was wrong, as apparently there's a big twitter debate about finding a new, gender neutral pronoun. Because to have to clarify gender in 140 characters or less is challenging, not to mention that we shouldn't have to clarify gender in the first place.
Some gender neutral pronoun suggestions are: s/he, he/she, shhe, hiser, heer, ha, thon, ne. And then there is the ever dreaded use of "they" as a singular pronoun.
OHHHHHHHHHHH NOOOOOOOOO!!!!!!!!! YOU CAN'T USE A PLURAL PRONOUN TO REFER TO ONE PERSON. THE WORLD WILL BE CONSUMED BY THE WRATH OF THE GRAMMAR GODS IF YOU COMMIT SUCH AN ATROCITY AGAINST MANKIND!
My question is this: is it worse to continue using gendered pronouns (language matters, as fbomb commenters themselves have pointed out on numerous occasions) or to use a neutral plural pronoun as a singular pronoun?
Also, which one would you rather say in casual conversation: "they" or "thon" / "ne" / "ha" ? Yeah, that's what I thought. It's clear which word would make the transition easier.
So, thank you, Twitter, for sparking this debate. I'm glad that people are starting to talk about language as it applies to gender.
Now we just need to branch out from English. I'm going into Spanish 3 in school, and for those not in the know, Spanish is also pretty gendered. I also am learning Hindi, and that has a heck of a lot of gendered words. I'm sure there are many other gendered languages too.
I know I slip up a lot with my use of language, and a lot of well-meaning people do, too. It's really hard to transition away from using such common words. But in the end, we all have to try.
---
More articles by Category: Feminism, Media, Science and tech
More articles by Tag: Activism and advocacy, Social media, Twitter, Transgender, News