Ted Kennedy and my Granddaughters
September 16, 2009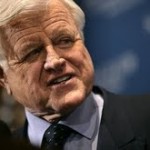 Guest post by Nadine B. Hack, President, beCause Global Consulting

My husband Jerry Dunfey and I were profoundly honored to be on vigil during the final hour Ted Kennedy's casket was at the JFK Library before his family brought him to the church for his funeral.  The next day one of our granddaughters called to say, "I saw you on TV: how did you know him?"  I want her generation to know he championed legislation that greatly improved the lives of women and girls.  And I want my grandchildren to know he profoundly touched our lives.

Jerry knew him for more than 60 years since John F. Kennedy's first congressional campaign.  When JFK couldn't attend an early event, he sent his then very young brother Ted to speak in his place and thus a friendship began.  JFK announced his presidential candidacy at a Dunfey Hotel and Dunfeys led campaigns for him, his brothers Bobby and Ted, Sargent Shriver, and many next-generation Kennedys. As an activist in the civil- and women's-rights movements since the 1960s, I also worked with them, their sisters, sisters- and brothers-in law and children through political and civic activism that grew into friendship.  We worked with Joe's son on Obama's campaign, moved to stand in NH gymnasiums with Matt almost 50 years after Dunfeys had organized such gatherings for his great uncle's presidential campaign. In private moments the connection among our families was sustained.  At our wedding Ted danced the Hora with my Jewish relatives and sang Irish ballads with Jerry's relatives with gusto described so lovingly in tributes.  When sailing into Nantucket, he would chow down on Jerry's homemade lobster stew.  Patrick, through his teens, brought his board to surf the ocean below our porch. Teddy Jr. stayed with us to ski.  At the funeral he captured his father's very essence: how he stood by his side with unwavering certainty that he could do anything.  Listening to Teddy tell that sled story, I thought about how it was just a decade later when he would throw off his prosthetic after a full day of intense skiing and I realized what a sense of empowerment he'd developed from his dad's encouragement. We worked with Ted on the Equal Rights Amendment, Minimum Wage, Family and Medical Leave.  We celebrated as he signed the Lilly Ledbetter Fair Pay Restoration Act.  With leadership to pass these and other bills that improved countless lives, he never gave up.  In 1982 he sent a handwritten note, "You have shared the challenging times and the winning times with all the Kennedys.  For that and your continued friendship, I am deeply grateful.  There are nine innings to the game and I plan to play them all." Last weekend we were at another one of our granddaughter's soccer games and realized her generation, before them our nieces' and, even earlier, our daughters' played sports because Ted championed Title IX so girls have school athletic funding like boys.  My grandchildren and their peers are fortunate Ted played all the innings brilliantly.