Is President Obama Actually Reaching Women?
August 4, 2010
One thing is clear from the past week's historic White House public appearances: President Obama has turned an eye to women.
On Thursday, President Obama made the first-ever presidential appearance on a daytime talk show with an interview on The View, a program hosted by five women with an audience makeup of approximately 79% women.  In the program's most-watched telecast ever with 6.59 million viewers, President Obama sat down with Barbara Walters and company to discuss everything from racism to Afghanistan to Justin Bieber.
Then on Sunday, President Obama upped his historic ante again by becoming the first President to attend a WNBA game.  With daughter Sasha in tow, the President visited the Verizon Center in Washington to watch the Mystics take on the Tulsa Shock.  Before taking his seat here, President Obama received a standing ovation.
To explain these appearances, media outlets are citing President Obama's plummeting approval ratings amongst women, particularly white women.  Since February 2009 the President's approval ratings amongst women have dropped from 72% to 51% - Contrary to Phyllis Schlafly's ridiculous comments. So the question now remains - Will the President's media appearances bolster support?
Some, including former View co-host Rosie O'Donnell, criticize President Obama for cheapening the presidential office by his appearance on a "fluffy" daytime show with "softball" questions.
Others describe the move as a masterstroke from the most media-savvy president of modern times.  However, despite mixed opinions about  his recent PR efforts, the fact remains that President
Obama made a very substantive move  last month when he endorsed the Paycheck Fairness Act.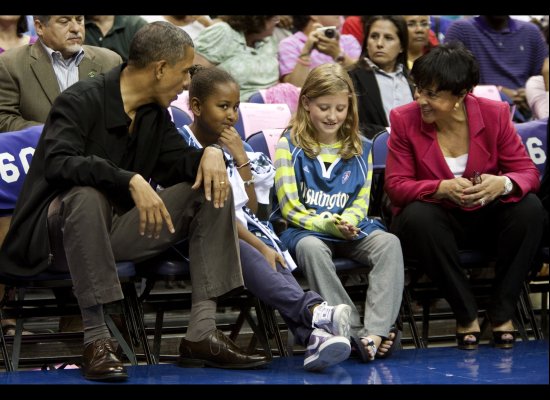 An update of the Equal Pay Act of 1963, the legislation would put gender discrimination on par with other forms of discrimination, which will be a huge win for women and families.
At the Women's Media Center, we undoubtedly recognize the media's crucial impact on women's lives.   We've certainly have come a long way, but we're still far reach from gender justice.  Thankfully, President Obama undersands that we need both media moves AND political action to get there.
What do you think?